0 to 50—Half of Eltham's Turnover Now in Sign Work Thanks to Xenons Installation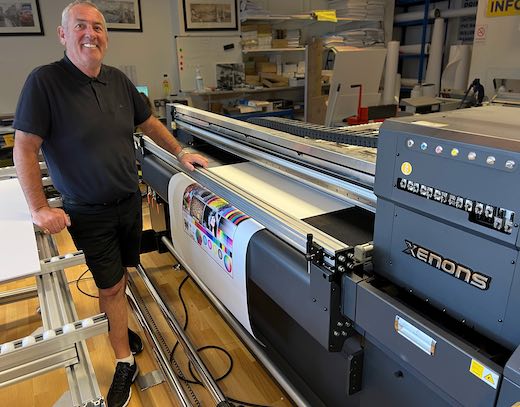 Eltham Digital grew its sign business from zero in 2020 all the way to 50% of their company's revenue today. The company began its transformation with an RSR Xenons R180 hybrid roll to roll/flatbed machine, which was now replaced by the upgraded Xenons X180.
Proprietor Terry Glasscock says; "During the Covid pandemic we were being asked to produce all kinds of signage, so we could see there was demand there. RSR convinced RSR we needed the Xenons to compete in a new marketplace, because it was versatile and offered high performance at a reasonable price. They were right."
The Xenons X180, which has a maximum width up to 1.88m and the same basic dimensions, is a new model that includes many mechanical upgrades, as well as the Ricoh 6 Print Heads. This hybrid digital LED-UV printer is capable of printing on many different media, including ACP, foam board, fluted board, ceramic tiles and wood. It can also print on glass, ceramic tile, vinyl, and flexible materials. Although capable of higher throughput, Eltham's machine maximises saleable quality by running at 25sqm per hour and uses a CMYK ink configuration, with the option of an additional white ink available as a future upgrade.
"It will print on just about anything as long as it's less than 35mm thick," says Terry. "We produce something different every day, whether it's point-of-sale boards, vinyl banners, outdoor signage or exhibition panels, and the Xenons machine does it all."
"The new one is faster to run and set up, and we expect it to match the performance and reliability of the machine it is replacing. For me the best thing about the X180 is ease of use; there's very little maintenance, and to run it, we just press 'print' and that's about it!"
Eltham Digital operates from high-street premises, and services a variety of clients throughout London. It has a strong relationship with many local businesses in particular the construction industry.