Epson Now Shipping SureColor F2270 Hybrid DTG and DTFilm Printer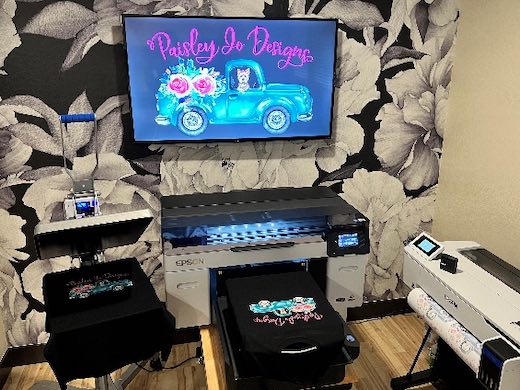 A new hybrid printer is designed to help print providers bring customized apparel to market with minimal waste and environmental impact
LOS ALAMITOS, Calif. – Epson today announced the new hybrid SureColor® F2270 printer is now available. Purpose-built for both direct-to-garment (DTG) and digital-transfer-film (DTFilm) printing, the SureColor F2270 combines outstanding image quality, easy operation and great value in a highly intuitive design. DTFilm printing allows print providers go beyond traditional clothing printing to transfer to a variety of different materials, such as unique shaped items like shoes, hats or mugs.
Paisley Jo Designs is a custom apparel company that specializes in clothing for businesses, schools, sports teams, and clubs. Kim Johnson of Paisley Jo Designs uses the SureColor F2270 to great success. She cites maintenance, crisp printing quality, hybrid features and operation as advantages to her business.
"The SureColor F2270 is a huge asset to our business; we are able to offer vibrant, full color graphics with the soft feel that customers want," said Johnson. "The hybrid features allow us to easily move from printing digital film transfers to shirts without making any adjustments on the printer, which helps with production times. Epson has gone above and beyond with this new technology and the features offered in the F2270 – it will be a game changer for a lot of businesses."
Featuring a PrecisionCore® MicroTFP printhead and next-generation UltraChrome® DG2 Ink, the SureColor F2270 delivers vibrant colors and photographic details at impressive speeds – up to 20% faster when printing on dark garments.1 The advanced high-performance printhead technology automatically detects and adjusts performance to produce quality garments and, coupled with a cartridge-free bulk ink pack system, print shops are able to minimize waste and environmental impact.
The Epson Garment Creator 2 is a robust software that offers a number of features to increase productivity. These include automatic garment thickness adjustments and streamlined Epson Garment Creator 2 interface. The large 4.3-inch touchscreen, the quick-load platen, as well as Epson Cloud Solution PORT3 which provides real-time printer monitoring including production rates, utilization data, and other features, are all designed to help users maintain their machines.
"The SureColor F2270 is a hybrid print solution built for quality, reliability and versatility. But more than that, the printer was designed with our customers in mind – helping them do it right the first time saves time, money and physical resources," said Tim Check, senior product manager, Professional Imaging, Epson America, Inc. "The market reception to this product has been exciting and we are eagerly anticipating the results and feedback from our customers once they start using this new printer."
Availability
SureColor F2270 can be purchased through Epson Authorized Resellers of Professional Imaging for $18,995. The printer was designed to be used exclusively with Epson Ink Packs2. It comes with a limited one-year warranty and on-site support. There are extended service plans available. For more information on Epson's direct-to-garment solutions, visit www.epson.com/dtg.