Gas, power crises to hit investments: BTMA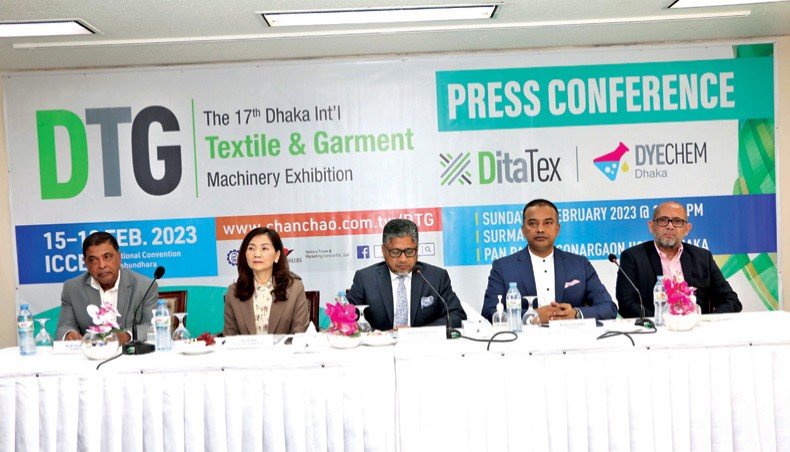 Uncertainties loom large over potential investments worth Tk 1 lakh crore in the country's primary textile sector due to gas and electricity crises, textile millers said.
The Bangladesh Textile Mills Association stated that while the government had increased the gas price to ensure uninterrupted supply, it was still not improving the situation.
The BTMA hosted the press conference in preparation for the 17th Dhaka International Textile and Garment Machinery Exhibition (DTG-2023), to be held February 15-18 at International Convention City Bashundhara, Dhaka.
'There are potential investments worth Tk 1,00000 crore in the textile sector, but there is doubt whether the potential investments will take place without ensuring uninterrupted supply of quality gas and electricity,' BTMA president Mohammad Ali Khokon said at the press conference.
He stated that $6.06 billion and $4.14 trillion respectively were invested in Bangladesh's textile sector in 2021 and 2022, and that the amount could rise if the government had provided the infrastructure and energy.
Khokon demanded the government develop at least 10 special economic areas for the primary textile industry on a priority basis, so that entrepreneurs can set up non-cotton-based fabric and yarn mills in these areas.
According to the BTMA president, artificial fibre-based garments are in demand at a faster rate on the global marketplace. The share of non-cotton-based apparel products will surpass 70% within two to three years.
Two other parallel shows — Dhaka Int'l Textile and Apparel Accessories Exhibition and Dhaka Int'l Dyeing and Chemical Industry Exhibition — will also take place in the same venue.
Exhibitions are jointly organized by the BTMA and Yorkers Trade and Marketing Service Co Ltd.
One hundred and sixty-eight booths will feature more than 1,200 global brands, representing 35 countries, regions, and displaying cutting-edge solutions and the most recent trends in the textile industry.
DTG will present comprehensive covering equipment, material, accessories and necessary in various stages of textile and garment industrial chains.
Brands including chief spinning equipment suppliers Truetzschler, Saurer, Murata and Ctmtc, weaving equipment brands Itema, Picanol, Staubli and Toyota, circular knitting machinery brands Lisky, Mayer & Cie, Pai Lung, Santoni and Beworth, flat knitting machinery brands Cixing, Shima Seiki and Stoll, warp knitting machinery specialist Karl Mayer, dyeing equipment suppliers Acme, Fong's, Monforts, Son-Tech and Thies, printing machinery specialists M&R, Mimaki, Ms, Oz and Colorjet, cutting machines suppliers Ima, Kuris and FK Group, and embroidering machine suppliers Tajima would showcase their machinery in the exhibitions.
Khokon said that prime minister's private sector industry and investment adviser Salman F Rahman would inaugurate DTG-2023 on February 15.
According to the BTMA, DTG-2023 had been reintroduced after three years of inactivity due to the Covid pandemic.
The exhibition continues to follow the world-wide industry trends, connect with the global supply chains to meet the industry›s ever-increasing demand, it said.
Among others, Md Fazlulhaque and Abdullah Al Mamun were vice-presidents at BTMA, as was Judy Wang, president Yorkers Trade and Marketing Service Co Ltd.