InkJetBiz Announces DTV (Direct-to-Vinyl) Printing System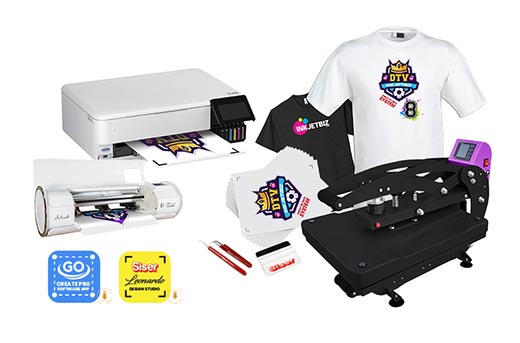 DTF Alternatives for only $1,995
Sunnyvale, California – InkJetBiz (IJB), a leading printing solutions provider, is proud to introduce the IJB DTV (Direct-to-Vinyl) System, a breakthrough in digital imaging technology. The IJB DTV System is a simplified and budget-friendly alternative to DTF (Direct to Film) printing. It caters to individuals and businesses who are looking for high-quality vinyl image transfers.
IJB DTV System addresses the challenges potential buyers of DTF Technology face such as limited technical support, white ink problems, high costs, steep learning curve, etc. With IJB's DTV solution, customers can now enjoy an all-in-one package that provides exceptional results at an affordable price.
DTV Systems Components
IJB DTV System combines leading brands and components for superior vinyl transferred images. They include:
Printer: The ET-8550 13" x 19" six-color printer delivers high-quality prints with remarkable accuracy and clarity. OEM pigment inks ensure vibrant colors that last.
Digital Cutters: Siser's Romeo and Juliet digital cutters offer precise and efficient cutting of vinyl materials.
Software: Siser's proprietary Leonardo cutting and driver software, along with the cloud-based GO Pro Create software, streamline the workflow and enhance design capabilities.
Vinyl Materials: Siser's DTV vinyl and TTD High Mask ensure excellent adhesion, durability, and vibrant color reproduction in transferred images.
Heat Presses : The GO Xpress 1620AR provides reliable and consistent results in the final stage of the image-transfer process.
Accessories: Siser's combo tool kit, including the EasyWeeder, EasyTweezers, and Squeegee, makes working with vinyl hassle-free.
IJB provides free online weekly training classes to help customers unlock the full potential in their DTV system.
Pricing and Availability
The IJB DTV System is available starting August 2023. The basic system is priced at $1995 and includes the EPSON ET-8550 Printer, Siser Juliet digital cutter, Siser Leonardo, vinyl materials, heat presses, accessories, training, and support. For an extra $200, customers can opt for the Siser Romeo digital cutter.