Nerdy Banana Adds Mimaki UJV100-160 to Further Extend Range of Applications for Unusual, Printed Gifts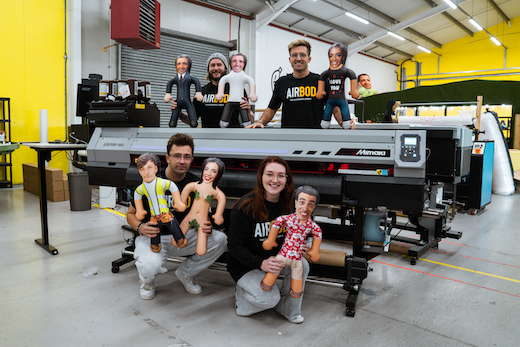 Charlie Rodman, founder (bottom Left) with Nerdy Banana staff
UV LED capabilities from CMYUK are added to the company's dye sublimation production portfolio
CMYUK Shrewsbury: Nerdy Banana is a digital agency that creates unique printed giftware.
The company used Epson dye sublimation printing machines to make its products. However, it has now launched Air Bod, a new brand of inflatables, right in time for Christmas.
"Sublimation is excellent but there are some things you can't sublimate, which is why we approached CMYUK as it offers products across all ink technologies," says Charlie Rodman, founder, Nerdy Banana.
Entrepreneurial flair
Nerdy Banana, the umbrella company, is responsible for eight direct-to-consumer brands. Charlie, who started making holiday T-shirts in 2011 for his friends, founded Nerdy Banana. The company employs 24 people and fulfills over 200,000 orders annually to more than 40 countries. Super Socks and Dogsy are among the brands.
The company does not just manage its D-to C brands; its in-house agency assists start-ups as well as businesses to make an online impact. They offer web design, video, paid SEO, PPC, brand development, and paid social media.
For its personalized gifts, it holds licenses from Warner Bros England as well as numerous football clubs. In 2020 it began a relationship with Selfridges London, Birmingham, and Manchester plus sister brand, Arnott's in Dublin, to install a physical Super Socks shop in-store where customers can design their own socks, which are printed and sublimated on heat presses while they wait.
"In Selfridges there were queues and people were waiting half an hour just to create this option. It was insane. You see so many personalised gifts now that are so boring, but this is really different, presented in a creative and fun way," says Charlie.
Mimaki's prowess
Nerdy Banana approached CMYUK to find a printed solution for Air Bod, its inflatable brand that offers a range custom inflatables such as dolls and pillows.
Charlie visited CMYUK's demonstration and training facility in Shrewsbury where it print-tested the materials it had sourced for this brand.
"We came up to CMYUK where we printed our materials on the Mimaki. Then we took them to be washed and returned again. We really put the printer through the mill, and it was all good," says Charlie.
Mimaki UJV100-16 is a 1.6m-wide UV LED printer with a resolution up to 1200dpi. You can use it with a variety of materials, including PET film, tarpaulin and textiles. Two-layer printing allows for transparent PET film to be printed with white ink. Clear ink can also be printed to create a topcoat varnish effect. Nerdy Banana opted for a 4-colour model only, as it prints to a white base material and so it didn't require the white ink option or the clear ink either.
Future expansion
There are plans to launch new brands and expand the retail while you wait experiences. To serve the growing US and Australian markets, the company is currently setting up a Los Angeles warehousing/manufacturing facility. Says Charlie, "We send lots of products out to these places, and with the high cost of shipping, we're just not going to be competitive enough unless we're out there on the ground. We're constantly adapting and want to keep innovating. It's fun to give gifts. It's nice to be able to give someone a laugh and a giggle."