RMGT Celebrates Successful PRINTING United Expo – Offset Print is Alive Well at RMGT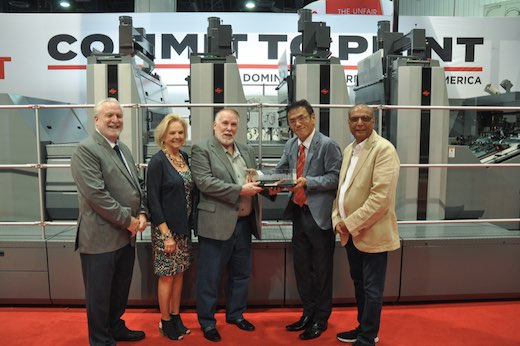 SOLON, OH – RMGT, manufacturer of the leading 8-UP sheetfed offset press in North America, is still celebrating their success at the PRINTING United Expo with nearly 50 print units sold during the show. RMGT holds the distinction of being the first major sheetfed offset press manufacturer in North America to be present at every major North American trade show since 2015. PRINTING United saw RMGT launch their 8-UP+ RMGT970 LED-equipped press. There were 19 live demonstrations at the event, which was held at the Las Vegas Convention Center.
"RMGT had a very successful PRINTING United with 49 press units going under contract during the show," states Kian Hemmen, Director of Sales, Print & Finishing Solutions, "All four of our regional sales and service centers in North America had offset press sales in both the commercial print and packaging segment across the country."
"We are experiencing robust activity in the packaging market for the new RMGT 10 Series press," states Lloyd Molloy, Director of Customer Service, RM Machinery. "Relevant Packaging signed an order at the show for the new RMGT 1060 TP/LX 8-color press with coater. Relevant Packaging and Mark Wright are long-standing Mitsubishi and RMGT customers. This press marks their 17th RMGT press and is their second order in less than 90 days."
Hagg Press added their second new RMG in recent years. "This time they purchased the new RMGT 970 8-UP+ fully automated press with LED-UV curing that was exhibited in the booth," states Chris Manley, President of Graphco. "These two presses have replaced five "other brand" presses, with the result that Hagg Press has grown over 20% year to year since their first RMGT investment." This RMGT 970 press features Automated Smart Assist Printing (ASAP), SimulPlate changing, and the Benford LED curing system. Jordan Hagg, President of Hagg Press observes, "Our quality and productivity have jumped since we bought our first press, and this new RMGT 970 will help us meet all the demand that has been thrust on us over the past few years. Hagg Press is truly powered by RMGT."
"The PRINTING United event brought together printers who were ready to invest in offset print," states Rahul Kaushik, President, RM Machinery. Jackie Au, the owner of Sharp Image in Brooklyn, NY, is a good example. "When he walked into the RMGT booth on the first day of the show, he looked at the press running live demos and said he needed a 5-color press with coater that had LED curing and traditional UV in the delivery. He signed and we are delivering the press shortly."
EZ Mailing is another commercial printer that continues to invest in offset printing. It is located in Indianapolis, IN. "EZ Mailing decided to "double down" in Las Vegas, adding a second RMGT press to their operation," states Gary Greis, Regional Sales Manager for Graphco. "They invested in a new RMGT 9 Series 8-color perfecting press with LED-UV curing. Kevin Bennett, President of EZ Mailing comments, "Our first RMGT took our company from $3 million to north of $9 million this year, so we can hardly wait to see what this new long perfector will do for us and our customers."
"PRINTING United satisfied a pent-up demand among printers to see the latest in printing technology," states Jeff Wagner, President, G.E. Richards is the Northeast Distributor for RMGT.
"With our press running live demonstrations every hour of the show, we highlighted the new reality of how the gap of short run print jobs has shifted from digital back to offset. Additionally, the new 8-UP+ RMGT 970 joins the successful 9 Series family of offset presses from RMGT that are the North American 8-up market leader in bridging the gap between a half size press and 40-inch press."
Visit www.ryobimhi.com to learn more about RMGT North America.