Textilegence November December 2022 issue has been published
Textilegence November December 2022 issue brings the latest textile and printing industry news and agenda topics from Türkiye and the world and presents a panorama of the industry. In the final issue of the year, we offer the latest developments and exclusive interviews in the categories of textile/printing machine technologies, fashion, retail, fibre and material, packaging, and Green Times. Fair and event news are also available.
First on the agenda is the decline in the rate of Turkish textile exports. Low purchase prices are threatening Turkish cotton production. This issue includes suggestions.
The Turkish textile sector continues to see growth and invest in new ways. Durak Tekstil has been approved to take part in the Turquality Brand Support Program. This allows it to expand its export market target. Hugo Boss opens its fourth factory in Türkiye. Gama Recycle also offers Saurer Autocoro spinner spinning machines for a more sustainable textile goal.
After the pandemic, the textile world continues to share the latest innovations and discuss important issues regarding the future of the industry in physical activities: The global textile industry met at the Sustainability Talks, which was held for the third time this year, with the participation of more than 40 speakers from Türkiye and abroad. FESPA Eurasia will bring together the printing industry for the ninth time. Mimaki Eurasia is getting ready to host printing professionals in a new FESPA Eurasia show. The booth will be focusing on innovative solutions and applications.
Swiss inkjet printer specialist swissQprint presented the second generation of its Karibu Uv roll-to-roll printer during the Las Vegas Printing Unified Show. Two new SureColor dye sublimation printers measuring 44 inches have been launched by Epson. Our latest issue contains all details.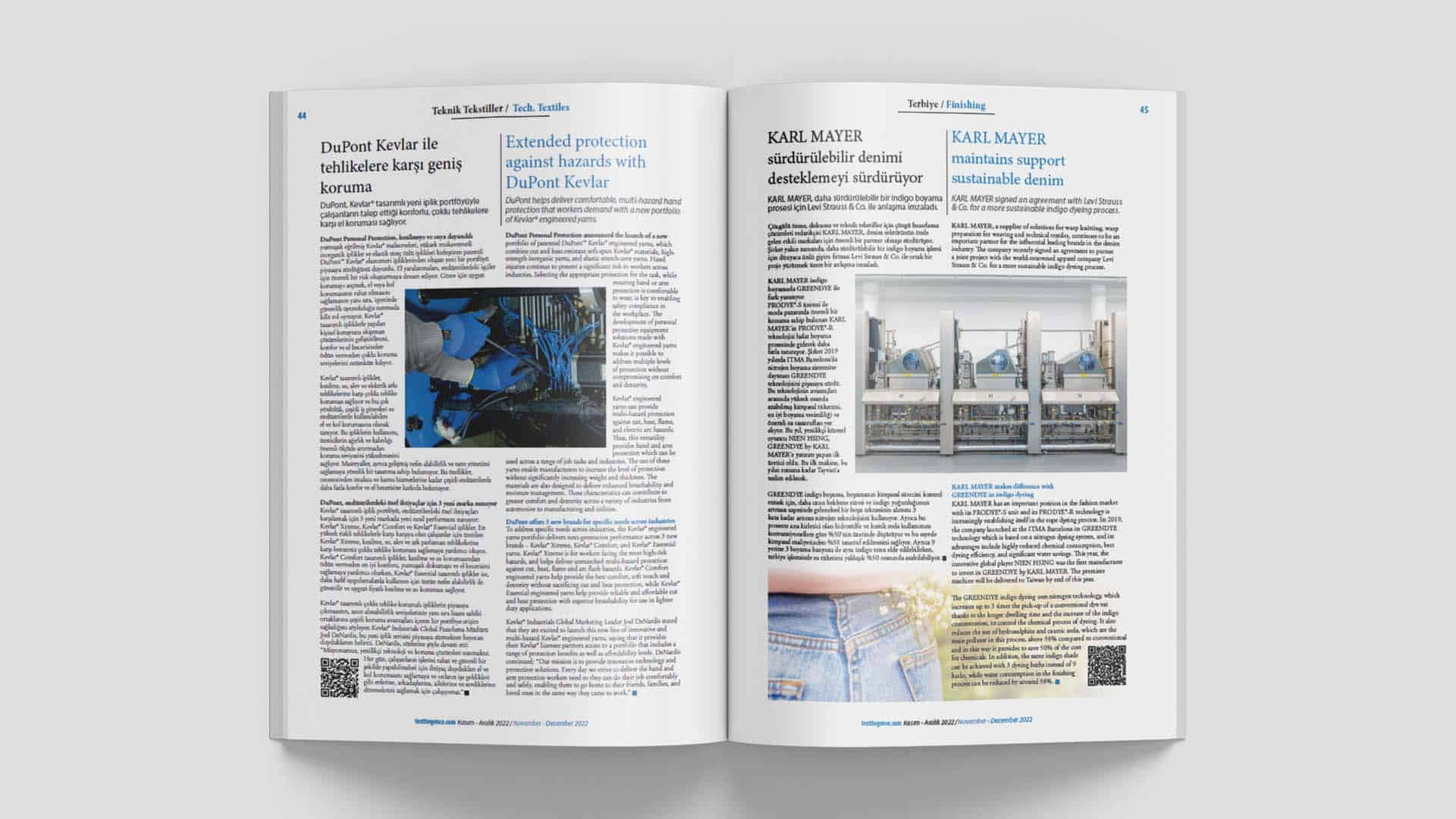 Exclusive news and interviews from Textilegence, November 2022 issue
Elyaf Tekstil Vice Chairperson of the Board of Directors Elif Bilge Olağaner spoke to Textilegence about their contributions to the global fashion and retail industry with the quality and sustainability-oriented fabrics they produce. In the interview we held with Karacasu Tekstil Sustainability and Corporate Communications Manager Mustafa Işık, we talked about the company's activities and collaborations in this field.
Our Green Times pages feature the latest developments and agendas on sustainability from Türkiye and the world, as always. The current situation in Turkey's textile industry is also presented in data in our news, where sustainability is discussed in conjunction with its social dimension. The last issue of the year will have more to offer.
We hope you enjoy reading!
You can subscribe from this link to read the entire magazine.